UDK at 4:30 in the morning. :|
Great tutorial on how to make spot-on alphas. It even shows how to turn the whole process into an action in Photoshop so you'll never waste time again. 
Courtesy of Bill Kladis from imbueFX
Problem-Solving?
I am a Game Design major with a MacBook Pro. I have realized that this is a problem.
Originally the issue was the fact that I no longer had an Xbox (or a TV, for that matter…) to game on. I solved that by deciding to get into PC gaming. Most of the major titles as well as a plethora of indie titles are available for PC, so I'll have a nice library. Also with a PC, I can work with UDK on my own time which would be really great for class down the road. Now the problem is my system. I have Steam, but since I have OSX my selection of games is pretty limited.
My solution? Partition my baby's hard drive and install Windows 7. I've been groaning and complaining about why I don't want to do this for a while now, but I realize this is the least expensive option that works perfectly fine. I have a pretty big hard drive and an external big enough to back everything up, plus a massive amount of RAM that isn't being utilized because OSX is super efficient. 
It seems to be the best solution…however, it's going to take some time. I'll probably get around to this sometime within the next 2 weeks, so I'm between projects and actually have the time for it, lol. 
Global Game Jam: The Aftermath
After a very hectic, very awesome weekend, Global Game Jam is finally over. 
In case anyone is not aware, Global Game Jam is an industry crunch-time simulation, in which teams are challenged to create a full video game in 48 hours. 
Despite being a freshman and having doubts about my usefulness on a team, I was very excited about this event from the start. Every person I talked to said that it's worth doing, regardless of what year you are or how much skill you have. It's all about the experience…and let me tell you, this was one hell of an experience. 
At 5:00 PM (EST), participants at SCAD met at Montgomery Hall and were presented with the official Keynote presentation that kicked off the Jam. The keynote gave us a theme, around which all of the games had to be designed. The theme this year was "Extinction". 
Our brainstorming went really well. We came up with a ton of great ideas, and eventually settled on something we decided would be manageable and unique. Unfortunately, about 8 hours in, we realized that we expected too much. We had to keep editing and changing the ideas due to complications, and it ended up a very skewed shell of our original idea. No on in our team was an expert programmer, and we only had two people who had ever really been exposed to UDK (Unreal Developer Kit). 
Sometimes, it's best to just scrap something when you know when it isn't going to work. Especially if the whole team is unmotivated about it. After our detective space adventure turned into a super boring fetch quest, we decided it was time to rethink. 
In the end, we developed something completely different that we were all really psyched about.
Concept:
The idea is that you are a robotic probe gathering DNA from endangered & extinct species for your master. These species include a dodo, a panda, and a bison (and just for shits and giggles, a beached whale). We decided that the animals would be on a set path, and it would be the player's job to guide them to safety through an obstacle course. 
A very appropriate adjective for our game is "derp-y". While concepting, we picked an art style that was cute, and made the animals (especially the dodo) look very derpy.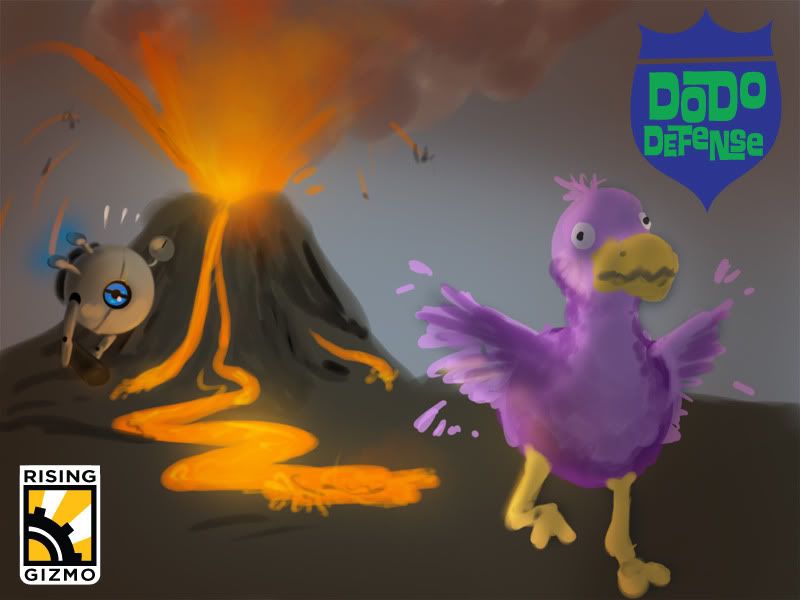 "Cover" Art, featuring the player-controlled probe & the dodo bird.
I blocked this out in Photoshop, and our animator refined it. We had a Motion Media major on the team as well, and he created the logos and the Intro/Credits for the game. 
I was so happy to be able to contribute something to the project. After this, the modelers showed me what a UV map was and set me up to start texturing, since Photoshop is one thing I definitely can do. I concepted & textured an adorably derpy whale for the bonus level. Unfortunately, he didn't make it into the game because we only had time to finish the first level (starring the Dodo). 
Even though he didn't make it, I still thoroughly enjoyed learning to texture. It's experience I can use later in my career, for one. Two, I loved being able to help out the team. Having me texture the whale freed up another artist so they could start rigging & animating other assets for use, thus making our workflow more efficient. And, it was fun. I like Photoshop, so I was only understanding a concept, not learning a program. However, I did have a very basic crash-course in Flash so I could make transitions between levels that could be imported into UDK. 
Overall, I feel like we did an excellent job. We made a video game in 48 hours. 40 hrs., really, if you take into account the 8 hours spent on our first concept. It really felt like one ridiculously long day, because since there are no windows in Montgomery Hall, there is a very warped sense of time passing. Plus, we only got a couple of hours' sleep, so essentially it was just one really long work session. But, we met the deadline.
It was definitely worth it, I'm so glad I participated. There are few feelings better than the feeling of accomplishment in the room as we played through the game right after submitting it. I had a blast, and the experience really just made me even more excited to break into my major. 
I love this industry.
-Seraix
This is the team gathered around as we watched the first official playthrough.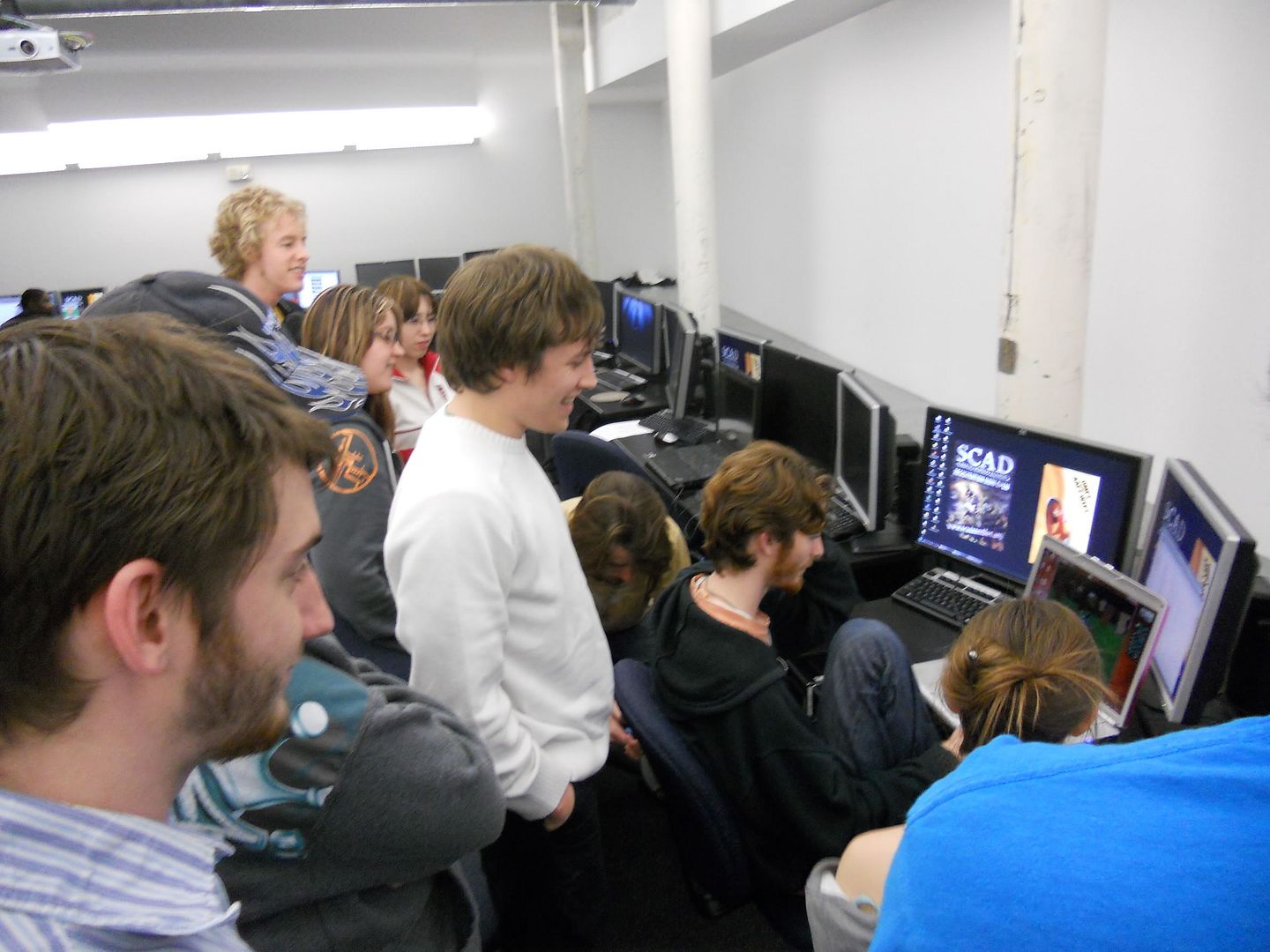 Global Game Jam
Right now I'm sitting in Montgomery Hall, almost 17 hours into Global Game Jam. 
Global Game Jam is an industry crunch-time simulation, in which you and a team create a fully functioning video game in 48 hours. 
Being a freshman, I don't have very much to offer as far as skillsets…I'm good with Illustrator and Photoshop, but I've never touched Maya or UDK (the Unreal Engine we're making the game with). So, for me, this is a very big learning experience. 17 hours in and I've learned a little bit of Flash and how to texture on an unwrapped UV map and load it onto a model in Maya. I'm enjoying myself very much, but it's really making me realize what kind of industry I'm breaking into. Crazy, hectic, fun…but it requires a very specific, very technical skillset that I really need to work on developing. Hopefully, by the time next year's GGJ rolls around I'll be much more capable.
If anyone is interested, SCAD is streaming a live feed of the different teams participating. Here's the link to our feed. It ends Sunday at 5PM (EST), so the cameras will be on until then.